The Video Game Project
A Closer Look At The Prototypes That Became Your Favourite Games!
Game Boy Advance Prototype, Debug & Sample Hardware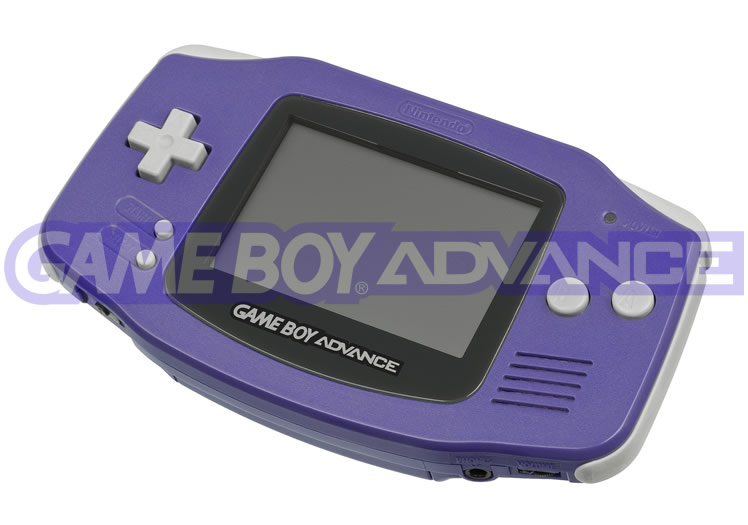 The Game Boy Advance or GBA for short is a 32-bit handheld video game console developed, manufactured and marketed by Nintendo as the successor to the Game Boy Color but before coming out with the Game Boy Advance, Nintendo was looking into a completely different type of portable device. Many years ago, the company was experimenting with a Game Boy successor under the apparent codename of "Project Atlantis".
Project Atlantis is regarded by some as the codename for the GBA during its development, which isn't true, as the GBA's codenamed was actually "Advanced Game Boy". Project Atlantis was a different beast, a Game Boy successor that Nintendo were developing around 1995. Rumours began to circulate about the system in early 1996. It was to be a 32 Bit colour handheld, have four buttons and a screen bigger than the final GBA. Media outlets even went as far as to report the expected release date of the system as late 1996. Rumours further suggested that the handheld would have power comparable to the N64 and used a 160 MHz processor and a battery time of up to 30 hours. This would have been way more powerful than the final GBA. Although Nintendo confirmed the system's existence in mid-1996, Project Atlantis never got released.
On September 1st, 1999, Nintendo officially announced the Game Boy Advance, revealing details about the system's specifications including online connectivity through a cellular device and an improved model of the Game Boy Camera. Nintendo teased that the handheld would first be released in Japan in August 2000, with the North American and European launch dates slated for the end of the same year. Simultaneously, Nintendo announced a partnership with Konami to form Mobile 21, a development studio that would focus on creating technology for the GBA to interact with the Dolphin, Nintendo's home console which was also in development at the time.
Contrary to the previous Game Boy models, which were all following the "portrait" form factor of the original Game Boy designed by Gunpei Yokoi, the Game Boy Advance was designed by the French designer Gwénaël Nicolas and his Tokyo-based design studio Curiosity Inc., in a "landscape" form factor, putting the buttons to the sides of the device instead of below the screen. The Game Boy Advance is approximately 5.69in x 0.96in x 3.2in in size and weighs 140g. It boasts a 2.9 inch reflective thin-film transistor (TFT) color LCD, a 16.8 MHz 32-bit ARM7TDMI CPU with embedded memory and 8.4 or 4.2 MHz Sharp LR35902 (8080-derived) coprocessor for Game Boy backward compatibility. Memory wise the GBA has 32 kilobyte + 96 kilobyte VRAM (internal to the CPU), 256 kilobyte DRAM (outside the CPU) and visually supports a resolution of 240 × 160 pixels in glorious 15-bit RGB (5 bits depth per channel),that's capable of displaying 512 simultaneous colors in "character mode" and 32,768 (215) simultaneous colors in "bitmap mode". All of this is powered by a mere 2 × AA batteries, which will give you approximately 15 hours of playtime.
The GBA was released in Japan on March 21st, 2001, in North America on June 11th, 2001 and in Australia and Europe, the PAL regions, on June 22nd, 2001. Mainland China got their own version of the Game Boy Advance on June 8th, 2004 but it was renamed the iQue Game Boy Advance. In early 2003, Nintendo introduced a new form-factor for the handheld, known as the Game Boy Advance SP (model AGS-001). The redesigned unit was designed to resemble a pocket-size laptop computer, including a folding case approximately one-half the size of the original unit. It also supports a rechargeable lithium ion battery, a significantly brighter LCD screen, and an internal front-light that can be toggled on and off. The redesign was intended to address some common complaints about the original Game Boy Advance, which had been criticized for being somewhat uncomfortable to use, especially due to an overly dark screen. In September 2005, Nintendo released a second redesign of the Game Boy Advance. This model, dubbed the Game Boy Micro, is similar in style to the original Game Boy Advance's horizontal orientation, but is much smaller and sleeker. The Game Boy Micro also allows the user to switch between several colored faceplates to allow customization, a feature which Nintendo advertised heavily around the Game Boy Micro's launch. Nintendo also hoped that this "fashion" feature would help target audiences outside of typical video game players. Unlike the previous Game Boy Advance models, Game Boy Micro is unable to support Game Boy and Game Boy Color titles. The Game Boy Micro did not make much of an impact in the video game market as it was overshadowed by Nintendo's other portable, the Nintendo DS, which also played Game Boy Advance cartridges. Around the same time as the release of the Game Boy Micro, Nintendo released a new backlit version of the SP (model AGS-101) in North America. The switch that controls the light now toggles between "normal" (which itself is already brighter than the original Game Boy Advance SP's screen), and "bright", an intense brightness level similar to an LCD television set.
Nintendo's Game Boy Advance systems quickly became Nintendo's best selling system of all time and within a few years had accumulated a total of 81.41 million sales worldwide, including 43.49 million SP units and 2.42 million Micro units. In 2008, the Nintendo DS surpassed this and continued Nintendo's path of domination by managing to move a total of 130+ million units worldwide.
Game Boy Advance DX
This is a pre-production version of the Game Boy Advance SP.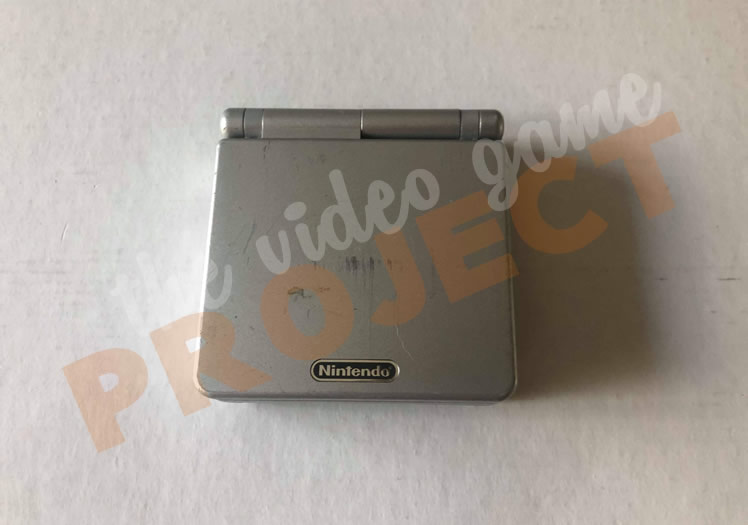 Front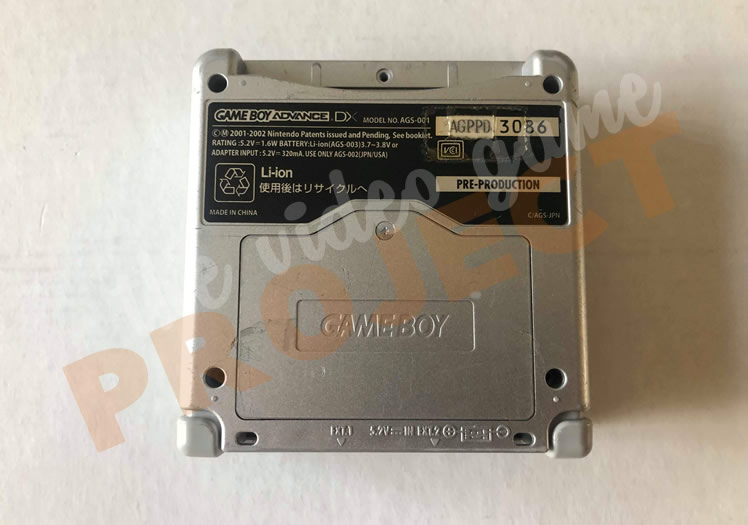 Back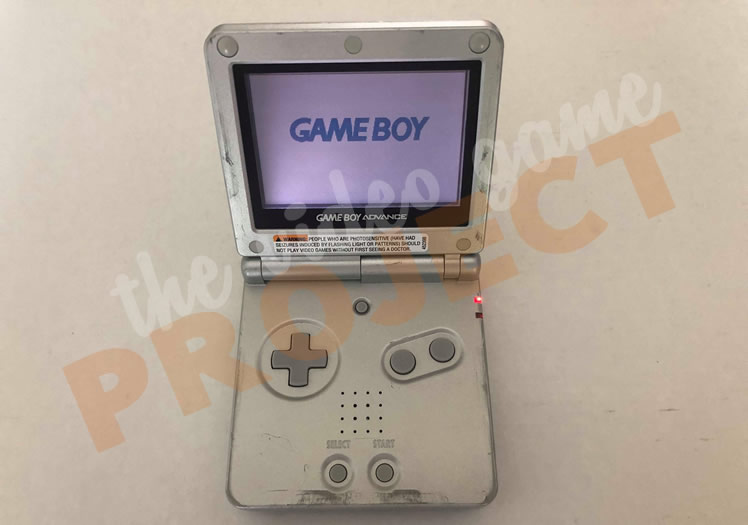 Inside
SHARE THIS PAGE